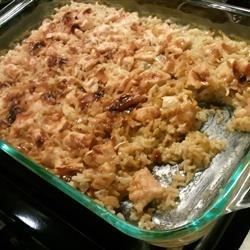 2 c. diced cooked chicken
1 1/2 cup sauce (below)
3/4 c. mayonnaise, sour cream, or kefir cream
1 tbsp. lemon juice
2 c. diced celery
2 tbsp. minced onions
2 c. cooked rice
Sauce:
3 tbs butter
3 tbs flour
1 cup milk
1/2 cup chicken stock
In a small saucepan over medium heat, melt butter. Add flour and stir until the butter and flour are well combined. Pour in milk and stock, stirring constantly as it thickens. Add more milk depending on desired consistency.
Combine all ingredients and stir thoroughly.
Optional: Add fresh or frozen peas or broccoli, top with crushed corn flakes or cheese.
For dinner tonight:
Bake in a x13 pan at 350 degrees for 45 minutes.
For a freezer meal:
Cover with foil and freeze.
To serve: Thaw overnight in refrigerator. Bake at 350 degrees 45 min to 1 hour or until heated through and bubbly