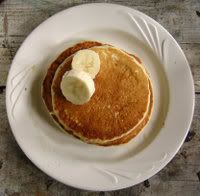 At our house, pancakes are a favorite for breakfast-for-dinner! We rarely eat them in the morning, but with eggs, juice, & fruit, its one of our favorite dinner time treats! This is tasty recipe that uses 100% whole wheat flour, for extra health benefits!
1 Cup Whole Wheat Flour
2 Tbs sugar
1 egg, lightly beaten
2 Tbs cooking oil
1/2 tsp salt
2 tsp baking powder
3/4 cup milk
Preheat griddle over moderate heat. Mix flour, salt, sugar, and baking powder in a bowl or wide-mouth pitcher. Combine egg, milk, and oil and slowly stir into dry ingredients and mix only until dampened. Batter will be lumpy.
When a drop of cold water dances on the griddle, begin cooking pancakes, using about 1/4 cup of batter for each, allowing plenty of space between them. Cook until bubbles form over surface, turn gently, and brown flip-side. Store leftovers in plastic bag. Leftovers freeze well.
Tips & Tricks

For extra light pancakes, turn before bubbles break. Turn one time only. Stack 3-4 deep on heated plates and keep warm while cooking the rest.
Suggested Sides:

Serve with your favorite pancake toppings, fresh fruit, and milk.
Make it healthier
Add fresh blueberries, applesauce, or bottled apples to the batter for an extra serving of fruit and a delicious flavor.