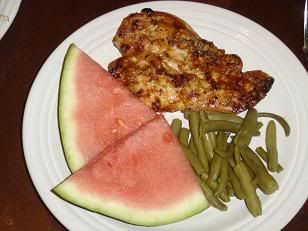 It's grilling season, and marinades are a great way to add flavor and uniqueness to your grilling fare!
There are three key flavors in a good marinade: something sweet, something spicy, and something tart. A good marinade will also have some oil added to lock in the juiciness of your meat. With these in mind you can usually make up a delcious marinade with ingredients in your fridge or cupboards and little preplanning beyond thawing your meat in the morning, tossing it in a bag with your marinade, and grilling it in the afternoon or evening.
No recipe needed!
For safety reasons, remember to save some of your marinade out for basting or to serve over your cooked meat-don't reuse the portion you marinated your meat in all day because its a risk factor in food poisoning!
Here are some jumping off points for each of the flavors. Mix and match them to find the marinades your family loves best!
Something Sweet:
7-up
Dr Pepper
Honey
Sugar
French Salad Dressing
Ginger Ale
Something Tart:
Acids are an important part in a marinade. It tenderizes the meat as well as prevents heterocyclic amines from forming. These compounds created from cooking over a flame are cancer causing agents, so an acidic marinade will help prevent these from getting into your food!
Yogurt
Orange Juice
Grape Juice
Cooking Wine
Crushed Pineapple
Tomato
Buttermilk
Mango
Papaya
Fig
Vinegar
Viniagrette Salad Dressings
Apricot
Something Spicy:
A few drops of Tobasco Sauce
Ground Ginger
Minced Onion
Minced Garlic
Cinnamon
Worchestershire Sauce
Soy Sauce
Oil:
I always use Olive Oil when cooking, and my marinades are no exception although you can use any vegetable oil. I skip the oil step if I'm using a salad dressing in my marinade that is not reduced fat.
Making Your Marinade:
After choosing one or two flavors from each category that will complement each other, put your ingredients into a large Ziploc bag. Add thawed meat and place in refrigerator for at least four hours or as long as 12. Marinades with a high acid content will require less time & be aware that marinating too long can make your meat mushy. Marinating longer than 12 hours is not advised because it can contribute to food poisoning. Turn your bag of marinating meat over every couple of hours.
Tips & Tricks:
Slice or pound our your meat so it is thin, this will help the marinade flavors permeate your meat. If you use fruit juice in your marinade, undiluted concentrate works the best. Fruits & vegetables in your marinade should be minced extremely fine, crushed, or pureed for the best result. Be aware of using too much sweet ingredients as they can cause excess smoking on your grill.
The chicken pictured at the top of the screen was marinated with a mixture of BBQ sauce, mustard, lemon juice, fresh garlic, worchestershire sauce, and ground pepper.