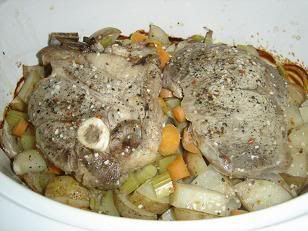 This is another recipe I created from what I had on hand & in the freezer.

Prep: 20 minutes
Slowcooker: 6 hours
4-6 Lamb Chops (uncooked, thawed)
6 potatoes, coarsely chopped
2 large carrots, chopped
3 stalks celery, sliced
3/4 cup raspberry viniagrette salad dressing
Freshly Ground Pepper
Parmesean Cheese
Layer in crockpot potatoes, then carrots & celery. Put chops on top. Blend remaining ingredients and pour over all and cook for 6-8 hours in slowcooker.
Tips & Tricks:
Chicken breasts or Pork chops can be substituted for the lamb. In a pinch, any viniagrette or italian dressing can be used in place of the raspberry viniagrette. If I used regular Italian, I'd add a bit of grape juice to it.
How Kids Can Help:
Kids can help layer ingredients in crock pot.
Make it Healthier:
Select lean cuts of meat & trim visible fat. Try adding additional varieties of vegetables in place of the white-starch potatoes.