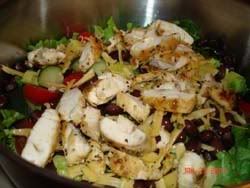 Photo & Recipe Courtesy of
An Ordinary Mom
4 breasts of chicken, cooked then sliced
1 tablespoon olive oil
1 head romaine lettuce, chopped small
1 15-ounce can of black beans, drained and rinsed
1 ear of corn, cut off kernels (can use frozen or can corn)
1 tomato, chopped
1 avocado, diced
1/2 cup red onion, chopped fine
1/4 cup jack cheese
1/4 cup cheddar cheese
1/4 small jicama, diced
Lemon-pepper
crushed tortilla chips
cucumbers (optional)
Buttermilk Salsa Dressing (see below)
Pound the chicken with a meat tenderizer. In a skillet, heat the oil. Add the chicken and sprinkle generously with lemon-pepper. Cook each side about 7 minutes or until done. Remove from pan to cool. Slice the chicken. Prepare all ingredients and toss the salad. Don't add the salad dressing until ready to serve.
Buttermilk Salsa Dressing
In a blender mix one envelope of ranch dressing with the required amount of mayonnaise and milk. Then add FRESH deli salsa to taste. Try and not get too much of the liquid.
How Kids Can Help:
Kids can add veggies to the salad bowl.