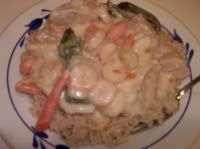 Prep: 20 minutes (6-7 hours in crockpot)
Yield: 4 servings
1 onion, chopped
3 cloves garlic, minced
1 (16-ounce) bag baby carrots
1 green bell pepper, sliced
3 boneless, skinless chicken breasts, cut into pieces
1 (16-ounce) jar Alfredo sauce
3 tablespoons milk
1 (10-ounce) package frozen fully cooked shrimp, thawed
1/2 cup grated Parmesan cheese
1 (12-ounce) package pasta
In 4-5 quart slow cooker, combine onion, garlic, carrots, bell pepper, and chicken breasts. Pour Alfredo sauce over all. Pour milk into Alfredo sauce jar, close tightly, and shake vigorously to get all of the sauce.
Pour this into the slow cooker. Cover and cook on low for 6-7 hours or until chicken is cooked and vegetables are tender.
Add shrimp to slow cooker. Stir, cover, and cook for 10-15 minutes or until shrimp are hot. Stir in Parmesan cheese and serve over hot cooked pasta.
Tips and Tricks:
I found this recipe on About.com and it really lends itself to variation! I throw in anything and everything I have in the fridge that sounds good at the time including lots of veggies. Its also good without the shrimp which isn't something usually found in my kitchen.



Make it Healthier:


In place of alfredo sauce, use a homemade white sauce with a heart healthy margarine like Smart Balance and skim milk instead of cream.