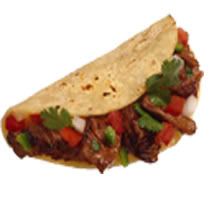 Yield: 8 Servings
Prep: 30 minutes, plus marinating
2 cloves minced garlic
1 green onion finely chopped
1/2 cup italian dressing
1/4 cup lime juice
1/4 cup soy sauce
1 lb lean boneless pork, chicken, or beef, cut into thin strips
2 onions, sliced
1 green pepper seeded & thinly sliced
1 red bell pepper seeded & thinly sliced
8 flour tortillas, warmed
sour cream
chopped tomatoes
grated cheese
shredded lettuce
Place garlic and green onion in shallow baking dish. Add dressing, lime juice, soy sauce. Stir and arrange meat in dish, cover and marinate in refrigerator turning occasionally for at least 4 hours and up to overnight. Remove meat from marinade, reserving marinade.
On broiler rack, arrange meat and vegetables. Broil, turning meat and vegetables once and brush with reserved marinade, 6 minutes or until meat is done. Remove meat and keep warm. Rearrange vegetables, then brush with additional marinade. Continue broiling 1 minute or until vegetables are crisp-tender. Serve meat and vegetables in tortillas and top with sour cream, tomatoes, cheese, and lettuce.
Tips & Tricks:
I like to throw sliced tomatoes in with the broiled veggies. Broiling is healthier than skillet-fried on cast iron, but retains the fresh traditional flavor.
How Kids Can Help:
Kids can help arrange veggies on (cool) broiler rack and can set out sour cream, tomatoes, lettuce, & cheese with serving utensils. Older kids can help grate cheese.
Make it Healthier:
Use reduced fat Italian dressing, cheese, & sour cream. Use whole grain, trans fat free wraps instead of tortillas. Use reduced sodium soy sauce.