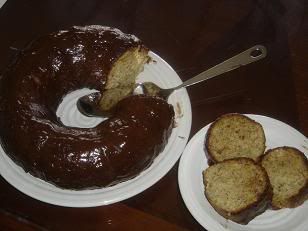 Prep Time: 60 minutes including baking & chilling
Yeild: 18 servings
4 ripe bananas
3/4 cup sugar
2 eggs
2 cups whole wheat flour
1/8 cup olive oil
1/8 tsp ginger
1/2 tsp cinnamon
1 tsp vanilla
1 tsp soda
1/2 tsp salt
1/4 tsp baking powder
Preheat oven to 350 degrees. Combine dry ingredients, set aside. Mash bananas, add sugar, eggs and vanilla and blend well. Stir in dry ingredients until just mixed. Our into a lightly greased and floured bundt pan. Bake for 30-35 minutes or until a toothpick comes out clean. Cover bundt pan with a plate and let sit for 5 minutes.
Glaze:
1/4 cup smart balance baking margarine
1/2 cup chocolate chips
1/4 cup powdered sugar
Soften butter until nearly melted & liquid, but opague in color. Melt chocolate chips and blend well with butter. Slowly add powdered sugar and beat until smooth. Spread on warm cake-glaze will melt and drip down the sides. Refrigerate cake until set, about 10 minutes.
Make it Healthier:
This cake is also delcious without the glaze, and lower in fat and calories. I've cut the oil as much as possible down to 1/8 cup from 1/3 cup without noticing a difference in texture & moistness. Add wheat germ or finely grated carrots for extra nutrition. This is a great dessert cake in that its whole grain and very high in potassium.
How Kids Can Help:

Kids can mash bananas and add dry ingredients. My son (5) pretty much makes this cake on his own with me just telling him how much of each ingredient to add and helping with the stove.