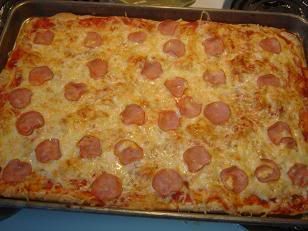 Yield: 1 large pizza (serves 6)
Total Time: About an hour (including raising & baking)
(all ingredients are approximate, this is a "head recipe)
1 TBS dry yeast
2 TBS sugar
1 cup warm water
3 TBS extra virgin olive oil
dash of salt
flour
Preheat oven to 350 F. Dissolve yeast and sugar in warm water. Add olive oil and salt. Gradually mix in flour until dough is very soft but not sticky. The amount of flour will vary based on the humidity and temperature of the day. Knead lightly until smooth. Place on a ceramic plate on top of stove or a warm place, cover and raise until double. While dough is raising prepare toppings, grate cheese, and prepare sauce.
Pizza Sauce:
1 6 oz can tomato sauce
fresh minced garlic
oregano
basil
pinch of sugar
freshly ground black pepper
We topped our pizza with what I had on hand, which happened to be canadian bacon, mozzerella cheese, and parmesean cheese. You can top your pizza with whatever you like.
Constructing your pizza:
Roll out dough onto your pizza pan. I spray my pan with vegetable oil first. I used a large baking sheet. Sprinkle 10-12 strands of grated mozzerella cheese in different areas of the pizza and bake until cheese turns brown but crust is still white.
Add toppings: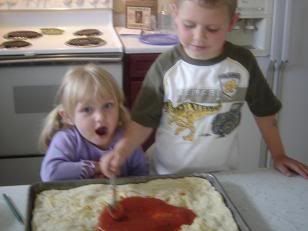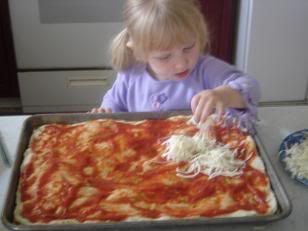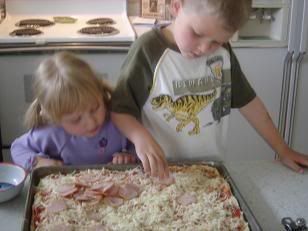 Bake until cheese is melted and starting to bubble.
Suggested Sides:
Green salad
Make it Healthier:
Substitute part of the flour with whole grain flour. (You will need to knead longer.) Use part-skim mozzerella and lots of vegetables.
Tips and Tricks:
The Pampered Chef roller is great for rolling out the dough quickly. If I'm rushed for time, I open the door of my oven slightly while the dough is raising so that the kitchen is warmer-you can literally watch the dough rise!
How Kids Can Help:
Kids can help assemble the pizzas. Sometimes we divide the dough and each child gets to make his or her own individual pizza with his or her dough.