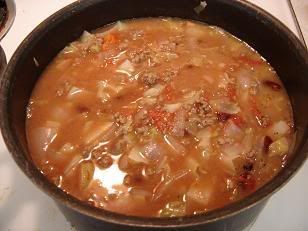 Prep time: 15 minutes
Simmer: 35 minutes
Yield: 3 quarts (feeds my family of 4 two solid meals)
2lbs hamburger
1 onion, chopped
1 clove garlic, hulled and minced
1 cup diced potatoes
2 cups shredded cabbage
2 cups water
2 tbs sugar
1 quart stewed tomatoes
1 tbs worchestershire sauce
2 tsp chili powder
1-2 cups cooked kidney beans
1 cup diced celery
Salt to taste
Brown the hamburger together with the onion and garlic. While the hamburger browns, cut up veggies as desired. Drain fat. Put ground beef and remaining ingredients in a stock pot, heat and simmer all together for 35 minutes.
Tips and Tricks
This is a very easy, forgiving vegetable beef soup. You can add any veggies that you like-such as carrots or summer squash. My son didn't care for the kidney beans or onions, they can easily be left out. If your family isn't big on stewed tomatoes, they can be pulverised in a blender. Since I make this meal once to serve for dinner twice, I use 2 full lbs of ground beef, but to stretch your budget you can use less beef.
Make it Healthier
This soup is a winner at my house because its thick and hearty, but there is very little fat in it if you use extra lean ground beef. If you use canned kidney beans, use the low sodium variety and rinse beforehand to eliminate the salty brine.
How Kids Can Help
Toddlers can put vegetables into the stockpot. Preschoolers can measure the water. School age kids can open cans & help cut vegetables.