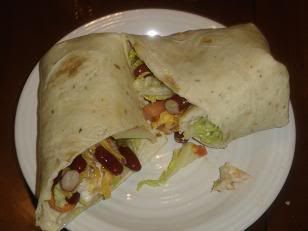 Prep: 10 minutes (with precooked chicken)
In our wraps, we used:
Garlic Herb Tortilla Wraps
Grilled chicken
Cheddar cheese
Kidney beans
Romaine lettuce
Tomatoes
Carrots
Ranch
Other wrap/pita filling ideas:
Leftover Chinese
Chicken Cesear Salad
Chicken or Tuna Salad
Grilled Salmon fillets, rice, teriyaki sauce & sesame seeds
Sauteed shrimp, rice, black beans, scallions, sour cream and salsa
Roasted turkey, lettuce, tomatoe, mashed potatoes, & cranberry sauce
Make it Healthier

Use whole grain tortillas or pita breads. Use low fat dressings.
How Kids can Help
Kids can arrange ingredients on wraps, shred cheese, and help fold wraps
Tips and Tricks:
Warm tortillas slightly before filling, they are less likely to tear. Put filling on the center of the tortilla, fold 2 sides in, and roll up. Don't overfill! For my family, I serve this as a wrap "option" but I leave out the salad ingredients so those who would rather have a chicken salad can do so. I use chicken I cooked ahead from another meal, but in a hurry you can thaw & cook chicken in the microwave quickly-its still less than 30 minutes doing it this way.