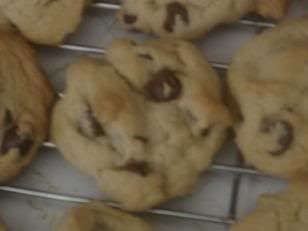 I searched for years to find the best recipe for a basic Chocolate Chip Cookie, and this is my family's favorite. My DH even likes them better than the ones he grew up on! I love this recipe because I can make it in one bowl, no need to separate the dry ingredients and add them all at once. Here is the recipe in both the regular version, and the "Food Service" version for those days when you are asked to make dozen upon dozen cookies for your child's school.
Prep: 10 minutes
Bake: 8-9 minutes per batch
Yield: Home Version 3 dozen cookies; Food Service Version 288 small cookies (1/2 oz dough) or 144 large cookies (1 oz dough).
Home Version:

1 cup
real
butter
3/4 cup packed brown sugar
1/2 cup granulated sugar
2 tsp vanilla
1 egg
2 1/4 cups unbleached, all purpose flour
1/2 tsp salt
1 tsp baking soda
12 oz
semi sweet
chocolate chips
Food Service:
2 lbs
real
butter (4 cups)
1 lb packed brown sugar (3cups)
15 oz granulated sugar (2 cups)
2 1.2 TBS Vanilla
4 Eggs
2 lbs, 11 oz (9cups) all purpose unbleached flour
2 tsp salt
3 1/2 tsp baking soda
3 lbs (8 cups) chocolate chips
Preheat oven to 375 degrees F. Cream together softened butter and sugar. Add egg, vanilla, and salt, and mix well. Add soda and flour, mix together until well combined. Add chocolate chips. Roll a heaping tablespoon of dough into ball and place on
ungreased
cookie sheet 2" apart. Bake for 8-9 minutes. Remove from oven and place on cooling rack.
Make it Healthier:
Try to limit yourself to one cookie. If you fail, go an extra lap on your morning walk. :D
Tips and Tricks:
Use a cookie dough scoop to make balling the cookies fast and easy. The longer you beat the butter and sugar together, the better your cookies' texture will be. I always use semi sweet chocolate for this, even though usually I prefer milk chocolate...I found that semi-sweet combines with the vanillaey cookie for the perfect flavor! I always use real butter, why eat a cookie if its not going to taste the best it can? Margarines don't have the right consistency, and shortening puts a yucky flavor in your cookies (and clogs your arteries!) The dough freezes well for several weeks for fresh cookies anytime!
When you remove cookies from the oven, let them stay on the cookie sheet while you load up the next sheet. A few extra minutes out of the oven, on a hot sheet keep them softer longer. After a few minutes, transfer them to a cooling rack.
How kids can Help:
Let toddlers unwrap butter cubes, push buttons on microwave for softening butter, and dump pre-measured sugars. Preschoolers can help scrape the bowl with a rubber spatula , crack eggs (into a separate bowl to catch any stray shells!) and can dump pre-measured salt, soda, and flour. Older children can set the timer and come get you when it rings.