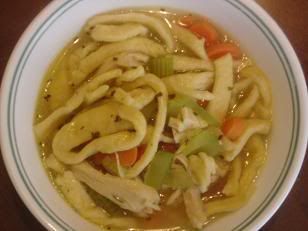 Tonight the plan was to have homemade pizza, but my son ended up being nauseated (nasty stomach flu going around) and requested soup. Here is my homemade Chicken Soup, with shortcuts to keep it from taking all day.
Prep Time: 30 minutes to Several Hours
Yield: 3 quarts (feeds my family of 4 two solid meals)
1 chicken carcass from a roasted chicken - I used two uncooked, split chicken breasts with bones & skin
8 cups water
2 cups cut up carrots
1 cup cut up celery
2 tsp dried basil
3 chicken boullion cubes
pepper to taste
2 cups homemade
egg noodles
-or 2 cups dried egg noodles
Put carcass in a stock pot with water and simmer for several hours until the meat slips off the bones completely.
Shortcut: thaw 2 split chicken breasts in microwave. Once thawed, remove skin and cook completely in microwave. Remove meat from bones, put bones in stock pot with water and boil bones for 15 minutes.
Remove bones from water. If you used the shortcut, cut up chicken and add to water. Add carrots, celery, basil boullion, and pepper and simmer until vegetables are soft.
Shortcut: Dissolve boullion in small amount of water and pour over vegetables, microwave veggies until soft.
Bring soup to a soft boil and drop noodles in one by one. Once noodles swell slightly, remove from heat and serve.
Suggested Sides:

Fresh Bread and Green Salad.
Tips and Tricks:
A lot of my friends complain that their DH's won't eat soup. The trick is to make a hearty soup with enough "stuff" in it to be worth his while. My husband doesn't care for overly brothy soups-he refers to them as a "warm beverage." I use lots of noodles, lots of veggies, and occasionally lots of meat to turn soup into a fill-him-up meal.
Make it Healthier:
Use low sodium boullion that is free of MSG.
This is already a great recipe in that there is no added fat, the only fat is what is naturally occuring in the chicken, and the eggs in the noodles.
How Kids Can Help:
Toddlers can put veggies in a bowl & push buttons on the microwave. Older children can carefully drop the noodles into the soup (with supervision of course!)