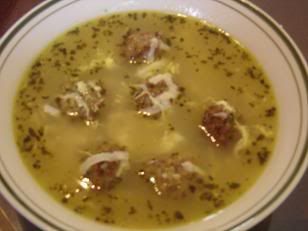 At a readers request, I'm reposting my weekly soup recipes from
Lords of the Manor
. Italian Wedding Soup is a type of Egg-Drop Soup, its extremely easy to make, and so delicious! Here's how I made it:
Yield: 2 quarts
Prep Time: 20 minutes
Bring six cups of chicken broth with 1/4 tsp white pepper and 2 tsp oregano to a boil. Turn off heat and add 3 beaten eggs. (I drop the eggs from 18 inches above the soup using my Pampered Chef measure-all cup.) While dropping egg, stir clockwise with a wooden spoon.
Add cooked meatballs-use your favorite recipe or pre-made, thawed & heated meatballs from the store.
Garnish with fresh grated parmesean cheese.
Suggested Sides:
Cesear salad and Italian bread.
Variation:
For Chinese Egg Drop Soup, replace oregano with 1/4 tsp white pepper and 1/4 cup finely chopped scallions. Add 1 tbs cornstarch dissolved in 1/4 cup water and stir in well just before dropping in eggs. Serve with fried rice and your favorite Chinese dish, such as
sweet and sour beef with broccoli.

Tips and Tricks:
Dropping the eggs is a fine drizzle from several inches above the soup. While dropping eggs, make sure heat is off (or eggs will be rubbery instead of silky) and make sure to stir in only one direction for longer egg-ribbons instead of pulverized eggs. Continue to stir for 1 full minute after dropping eggs.
How Kids Can Help:
Toddlers can push buttons on microwave for thawing/cooking meatballs. Older kids can help drop the eggs or stir clockwise while you drop the eggs.